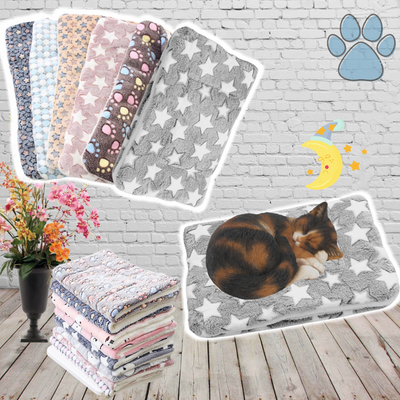 PRODUCT ADVANTAGES

Extra comfort - Ideal for dogs/cats that love to curl up! The raised rim provides head and neck support, while the ultra-soft filling offers joint and muscle pain relief. Your furry friend will be very relaxed to sleep.

Release Stress - the raised rim creates a sense of security coziness The cozy faux mimics the Ultra-comfort of a mommy s fur coat. It is proven to help your pets free from tension and anxiety initiates the nervous system to calm down relax faster.
Improve Health Behavior - the reduced stress anxiety of your cats/dogs leads to improved behavior and better health. This not only improves your pet's life but also your life as a dog/cat owner.
Ultra-Soft Hypoallergenic Material - made from plush Faux Fur Durable Coral Reece. The material is specially designed to not cause allergic reactions & irritation for your furry friends. Super friendly fabric for your dogs/cats.
Luxurious Design - multiple color designs to suit any home and decor purposes. The sleek design combined with the cozy appearance makes your home look extremely comfy for your furry friends.
Cleaning Pet Hair is Easier - when your dog/cat sleeps, it sheds hair. Let them sleep in an area where it is concentrated, and you will have less to clean up and have extra time to do other stuff.
Easy to Clean - 100% safe to machine wash using the following settings: gentle cycle, tumble dry, and low heat.
Type: Pet Blanket Mat
Material: Plush Faux Fur Durable Coral FleeceWash
Style: Hand / Mechanical Wash ( l00 % safe to machine wash using the following settings: gentle cycle, tumble dry, low heat )
Note
Due to manual measurement, an error of 3-5cm is allowed.
Due to the differences between different displays .there are color differences, please refer to the actual product.
The products are shipped in compressed packages. After you receive the products. they may not be as thick as shown in the picture please leave them for a few days and the blankets will return to fluffy