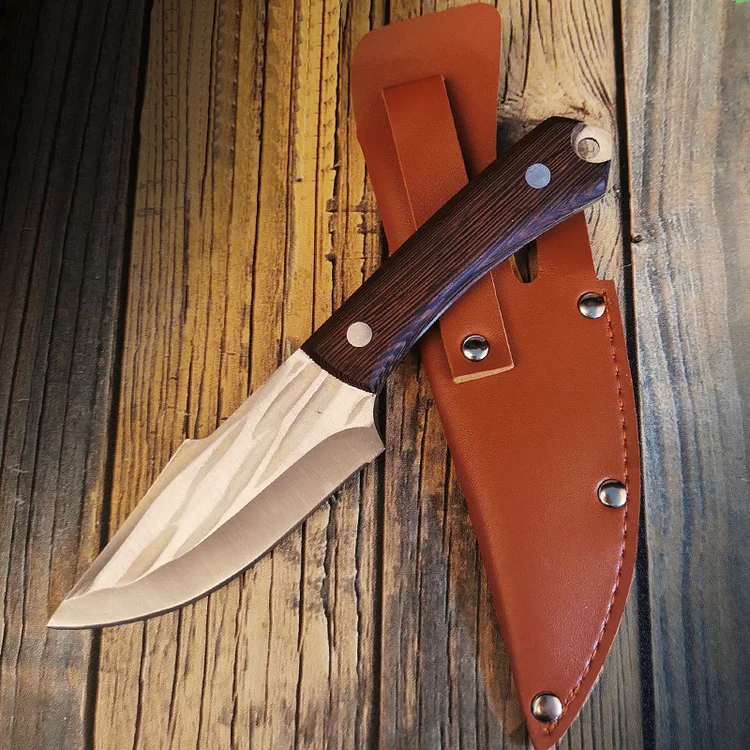 Description
Whether you're in the kitchen, at a barbecue, or venturing outdoors, this versatile knife is a practical choice. Experience the power and precision of this meat cleaver knife, and elevate your culinary skills to new heights.
Features
Ergonomic wooden handle - The knife features an ergonomic wooden handle that provides a comfortable grip during use. The handle is designed to fit naturally in your hand, reducing fatigue and ensuring precise control while cutting. Enjoy a comfortable and secure grip that enhances your cutting experience.
Integrated blade and thickened blade back - With its integrated blade and thickened blade back, this knife offers durability and strength. The integrated design ensures stability and eliminates the risk of the blade detaching from the handle. The thickened blade back adds extra support, allowing you to handle tough cutting tasks with ease.
Sharp blade - The sharp blade of this meat cleaver knife ensures efficient and clean cuts. Whether you're slicing through meat, vegetables, or bones, the sharp edge effortlessly glides through with precision and accuracy. Enjoy the ease and efficiency of a sharp blade that simplifies your kitchen or outdoor preparations.
With a leather cover - For safety and convenience, the knife comes with a leather cover. This cover effectively protects the blade and prevents accidental cuts when the knife is not in use. It also allows for easy and safe transportation, making it a convenient option for camping, barbecues, hunting, fishing, or hiking. Take this versatile cooking knife with you on your outdoor adventures and enjoy its reliability and functionality.
Specifications
Material: stainless steel
Blade angle: below 60 °
Blade material: stainless steel
Blade length: 11cm
Handle length: 10cm
Full length: 21cm